Holland got Horsemanship Freestyle
Winners online contest 2022/2023
First edition of Holland got Horsemanship was a great success!
The first edition of Holland got Horsemanship was dedicated to the theme Freestyle. The contest was open to all currents, disciplines and visions. The task for the participants was to show what they were proud of. Through the two preliminary rounds, the participants could select themselves for the semifinals. A total of 52 participants participated. A wonderful turnout for our first edition! With a lot of variety. Young participants who proudly showed how they mastered their horsemanship with their pony. We saw several participants riding a neckrope, bow guns on horseback, freedom dressage on the beach and a grooming horse running Grand Prix dressage. Entries with a clear message, but also entries where there was clearly a lot of fun. There were even donkeys participating! Everything was possible and allowed in this edition.
If we change the way we look at things, things will change
This edition has shown that there are many ways in which you can enjoy your horse. Although we have let go of the rules for optoming, among other things, we have not been able to catch any participant in unfriendly practices. We have seen everything: neckrope, bitless, with bit, rod and trens or a kaptoom. Within our contest, riders could choose what they could do best. Did it go perfectly for everyone? No, definitely not! But perfection wasn't the goal either. It was precisely the entries in which participants were honest and vulnerable and also shared struggles and their less perfect moments that received a lot of appreciation.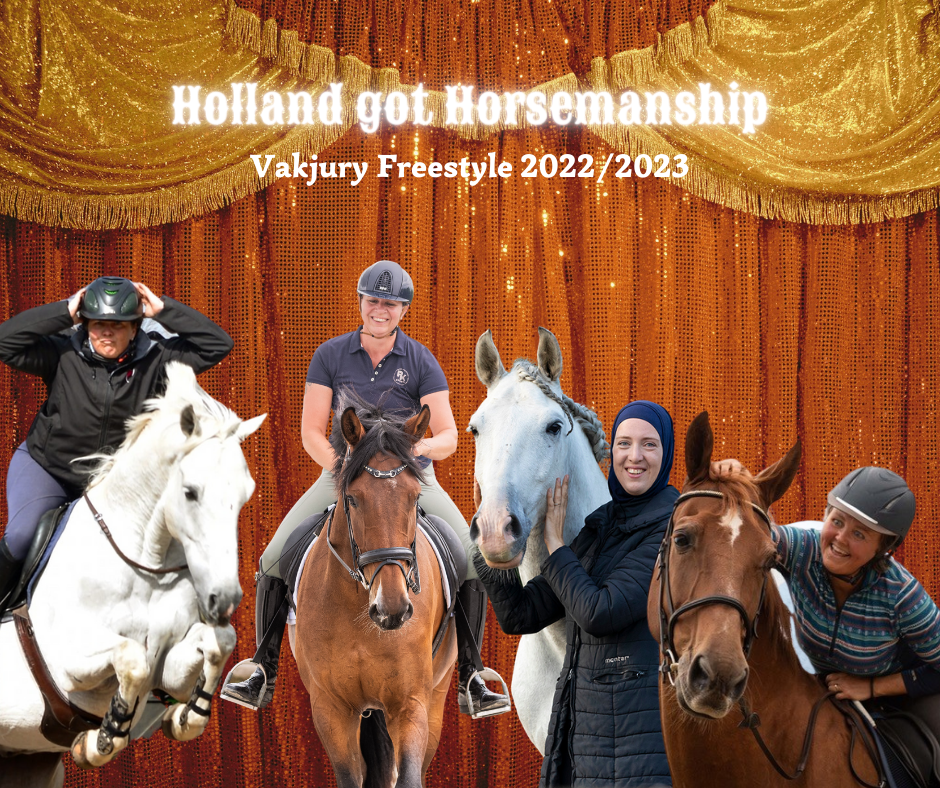 During the duration of the contest, a nice atmosphere was created in which the participants also voted for each other and expressed their appreciation to each other. For that reason alone, the contest was a success. Through the preliminary rounds, the participants could select themselves for the semifinals. On 28 February 2023, the denouement of a very exciting semi-final followed in which a number of participants switched places at the end. In the final, all finalists were judged by the professional jury, consisting of Malene Nootenboom. Bianca Schoenmakers, Liesbeth Jorna and Romy Huisman.
It was clear from the assessments that the professional jury members all emphasized slightly different things. They also all judged the entries from their own background and expertise. This provided different insights, but also different personal rankings. Because we have taken an average of the points of the professional jury, all influences were actually included in the final assessment.
Jolanda & Stacey are the winners of Holland got Horsemanship!
Jolanda and Stacey are the
winners of the first edition of Holland got Horsemanship
. This makes them the new ambassadors for the movement we stand for with MyCompass.Horse. Although there can only be one winner in each category, we are proud of all finalists and all participants in the contest! Thank you very much for your participation!
Many thanks to the community who voted fanatically and gave great feedback. To all the sponsors who have made those
great prizes
available. The professional jury that carefully assessed all entries and gave feedback on them from their own expertise. And finally, of course, many thanks to Eveline from
Equiday.
Thanks to the collaboration with Eveline, we can also give the Top of Holland got Horsemanship a very nice offline stage on
Saturday 8 April
at
Equiday
.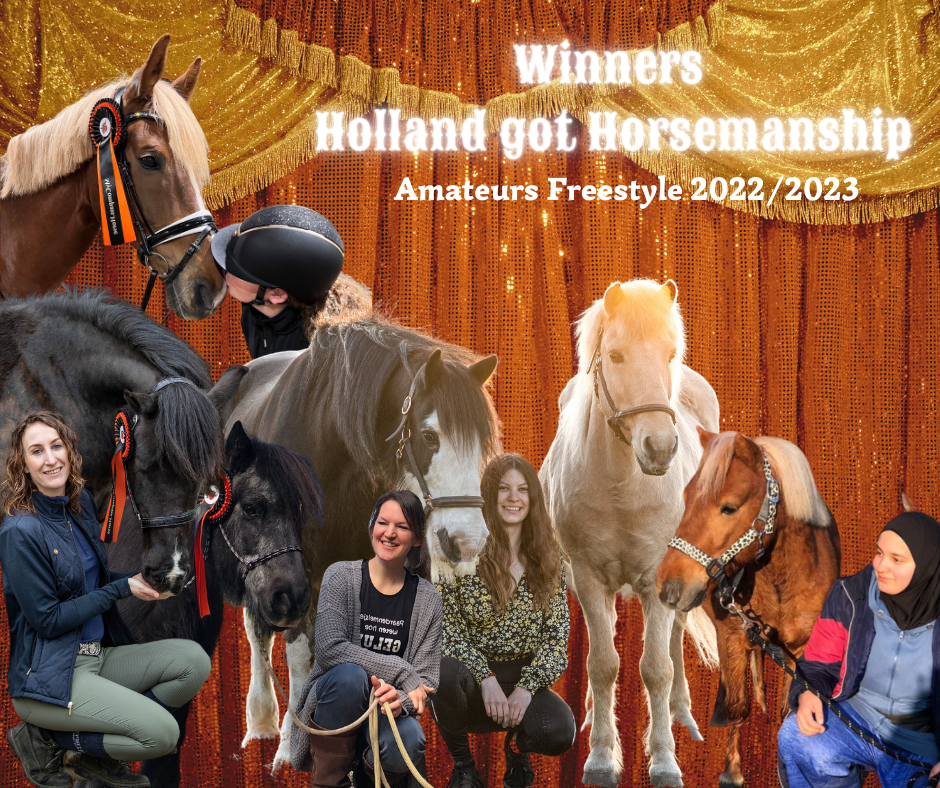 Final score professionals
Holland got Horsemanship Talent: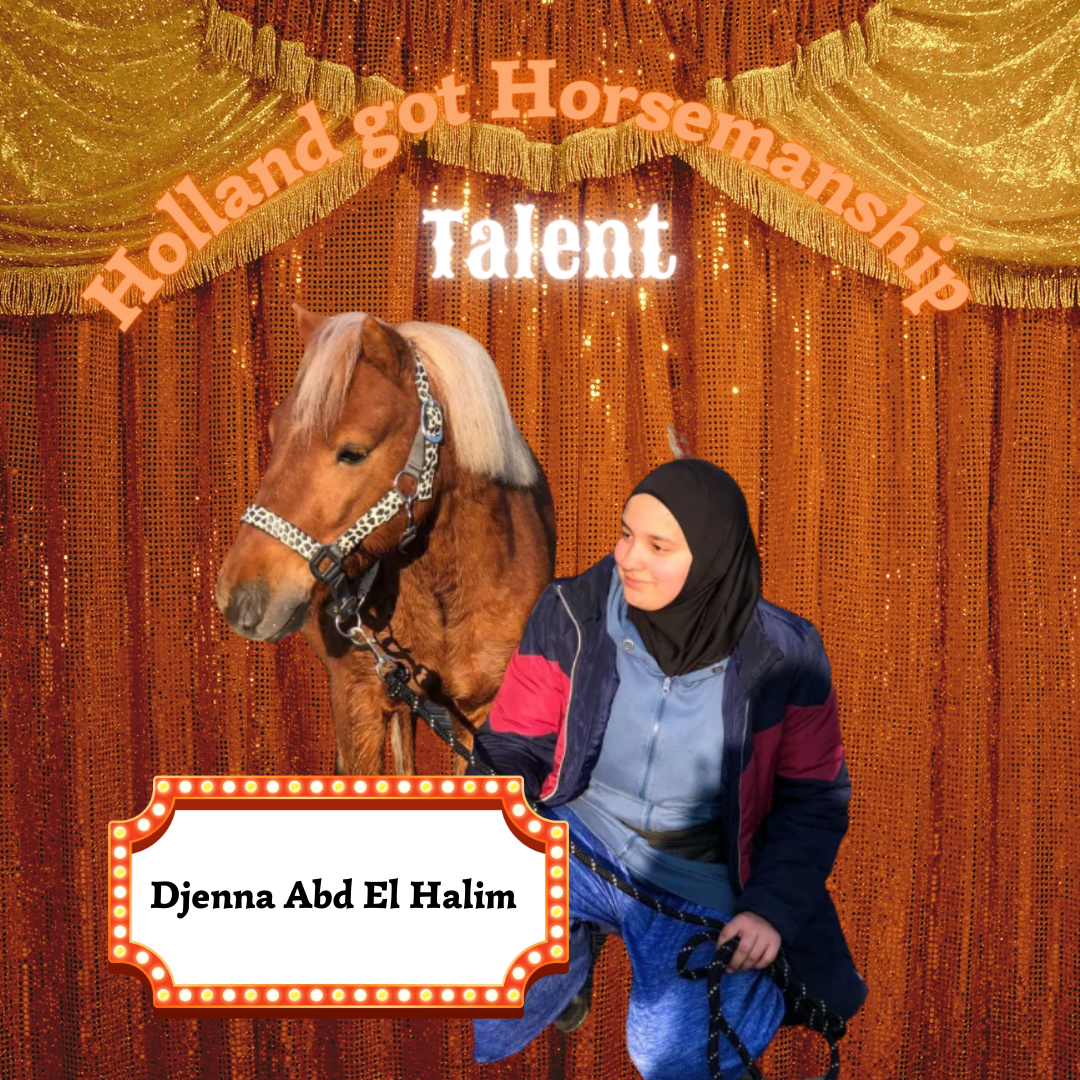 Djenna Abd El Halim
In the final standings, Djenna Abd El Halim finished in third place in the Amateurs category. But in the ranking of the professional jury, Djenna finished in first place. That is why Djenna receives an honorable mention from us. As one of the youngest participants in the contest, the professional jury sees her as an up-and-coming horsemanship talent. The professional jury especially admired the progress that Djenna has shown with her Goldy. From fat unfortunate almost crippled bangs, to a happy shaggy play pony who enthusiastically works with Djena. Djenna had made a beautiful compilation of all the images she has collected of Goldy over time. As a result, the progress became clearly visible. In her entry, Djenna shows a very open-minded, inquisitive, inquisitive attitude and is not afraid to experiment with different techniques. That is a very important quality to develop good horsemanship! Although the professional jury also saw areas for improvement, they are confident that Djenna will master them automatically through her efforts.
Well done Djenna and Goldy!
Top of Holland Got Horsemanship on Equiday
On April 8 , Equiday will be dedicated to The top of Holland got Horsemanship. As the winner of the professionals category, Jolanda Adelaar will give a show dedicated to the farewell of her Super Guus. Of course, the winner of the amateur category, Stacey and Thor is also included in the program. Under the guidance of professional jury member Romy Huisman , she will work hands on the feedback from the jury in the ring. Professional jury member Malene Nootenboom , together with finalist Mariska Veth-Groenendijk , will demonstrate how they have worked towards Grand Prix dressage with Mariska's care horse, which she only has available 1 to 2 days a week. And how they let fun and performance go hand in hand. Professional jury member Liesbeth Jorna is also in the program with a demo. Finally, finalist Priscilla Otto of Seaside Horse Adventures will give a Horse Agility clinic with the youngest participants from the contest, Lieke and Isolde, and with Holland got Horsemanship Talent Djenna Abd El Halim . At the end of the day is the official award ceremony and all finalists are invited to receive their prize.
Do you want to be there? For loyal followers and voters of the contest we have a discount code for tickets for Equiday. You do not pay 15,- for a ticket, but 12,50 if you order your ticket before April 1st. Would you like to receive this code? Sign up for our newsletter!