Holland got Horsemanship
Rise up, get ready! Its time to show your horsemanship!
MyCompass.Horse stands for a new story. And with a new story come new role models. It's time we stopped arguing and showed how well horsemanship is practiced. Not with words, but with horses. With our unique Holland got Horsemanship Contest we offer a stage to the ambassadors of our movement. We shine the light on the riders and trainers who also deserve to be in the spotlight. We want to see what horsemanship you have in you! Our contest is about:
Inspiring each other instead of competing
Cooperation instead of spectacle
Progression instead of perfection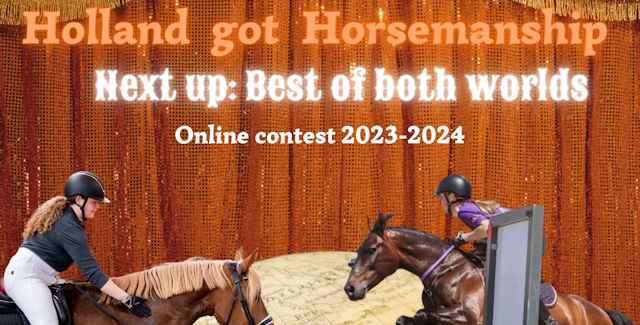 Save the date!
After the success of our first two editions Freestyle and Golden Oldies, the theme is:
Best of both worlds!
In this contest you can inspire us with your horsemanship from the saddle or from the ground.
Registration will open on 1 October 2023. Will you join us?
A new theme every time
For each contest we come up with a new theme around topics for which we think there should be more attention. Who also deserve to be in the spotlight. With our themes we want to challenge riders, trainers and the community to show the best version of themselves. And to discover the best in the other. We work with as few rules as possible. We leave the choice for, among other things, the optoming, the displayed level and the execution as free as possible. As far as we are concerned, horsemanship is about consciously and creatively dealing with the qualities but also the challenges of horse and rider. Being able to explain what you do and why. We formulate an assignment for each theme and determine the selection. The final ranking is determined for 50% by the voice of the community and for 50% by a professional jury.
1st edition theme Freestyle 2022/2023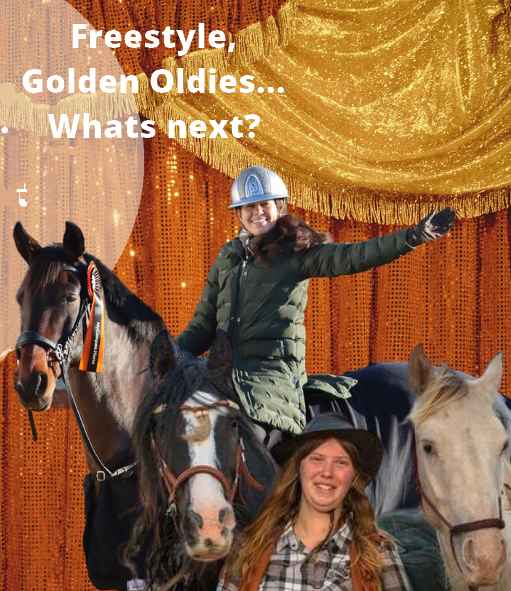 Rise by lifting others!
The community plays an important role in Holland got Horsemanship. The vote of the community determines for 50% who will be the winner. It is often stated that you should not judge something if you have not driven at a certain level yourself. Or have followed a certain education. But we don't think that's relevant at all. When horsemanship is put into practice, it should be nice for the viewer to look at. Whether you are a layman or a professional. We challenge the community to express their appreciation to the participants who inspire them. But also to the participants who show an honest and realistic picture of their horsemanship. Who have the courage to share their struggles and challenges with us. Of course, (constructive) feedback can also be given. The goal is that we lift each other to a higher level. From commitment, respect and our shared love for the horse.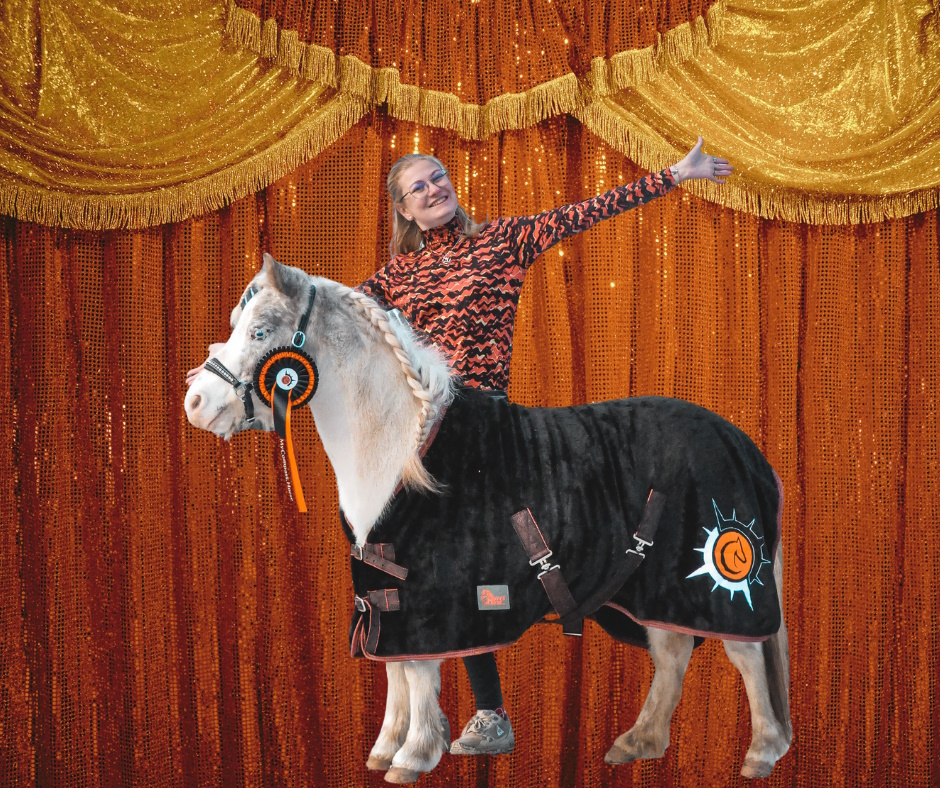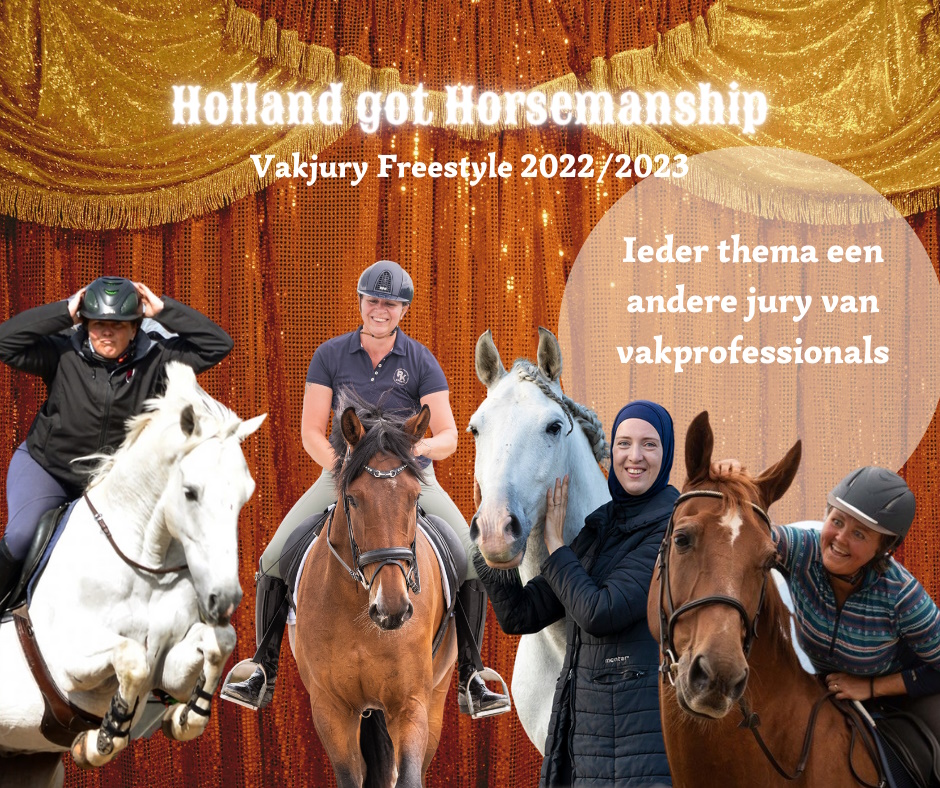 Review by real professionals
For each contest, we put together a professional jury based on the theme. The assessment of the professional jury counts for 50% of the final ranking. We select four professionals per theme who have earned their spurs within their field. These can be, for example, trainers, instructors, specialists or veterinarians. The professional jury assesses the finalists based on their own expertise. When you are qualified for the final, you will receive substantive feedback on your entry from four professionals.
A form of appreciation
We find it the challenge to put together a thick prize package for each contest. For the first two editions we were able to offer substantial cash prizes with the help of sponsor Stud Farm Blackhorses . But of course, this contest is not about money. It's about appreciation. We see the cash prizes as an expression of appreciation to those who dare to participate in our contest. And thus take on the ambassadorial role of the movement we stand for. As human beings, we all need recognition and appreciation. If we want to set something in motion, we have to make sure that we appreciate the good examples. In the contest we do not only make prizes available to the participants. But also for the community. To those who give valuable feedback. Who express their appreciation. That's how we all win.
A different view of success
Holland got Horsemanship is more than just an online contest. It is a movement in which we can inspire each other how it might also be possible. Being successful in the horse world is now mainly measured by profit points, levels and money. We can find something about that. But endlessly analyzing the problem does not bring you closer to the solution. The most effective form of protest is to propose something new. And that's what we do. We propose a new definition of what it means to be successful. And with our Holland got Horsemanship we give substance to that. Does this appeal to you? Then join us! Contribute, help or make your voice heard!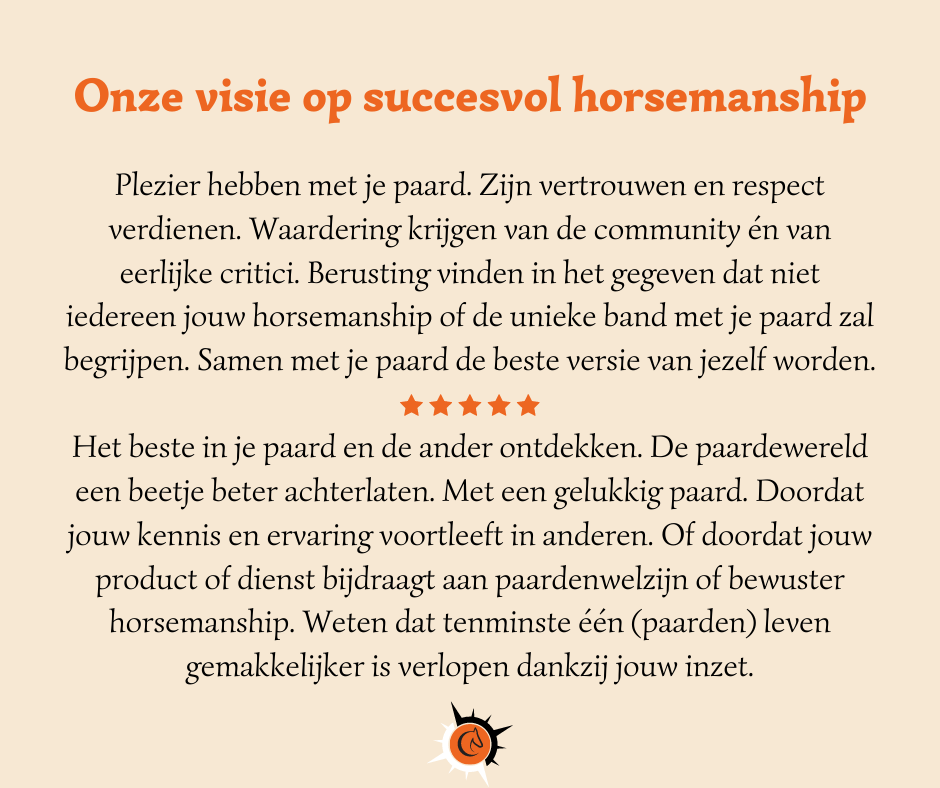 Sponsors and Collaboration
The more attractive the prize package and the stage that we can offer the participants in our contest, the more powerful our movement. That is why we also like to get in touch with professionals and companies who want to work with us. Who can help us put together great prize packages. But they can also help us create an offline stage on which we can put the winners in the spotlight in front of a nice audience.
Does our contest appeal to you? And would you like to connect with our movement or a specific theme? Then we would like to get in touch with you! With our first contest we have created a large reach. In the past year, MyCompass.Horse attracted an average of about 55,000 unique visitors and our community now has more than 4200 members. Within our contest we have various possibilities to bring your products or services to the attention.
For more information, contact us or sign up for our newsletter!
Thanks to the following sponsors and cooperation, the first two editions were a great success!