The Equestrian Compass
A broader view of horse welfare
.
.
Broad view on horse welfare
Horse welfare is more than just the absence of stress, illness and discomfort and the presence of peers. However, the focus is usually on that. The Equestrian Compass has been developed to take a broader view of horse welfare. It is based on ever-changing dynamic world and not on static state of horse welfare or a one-sided vision of success. The Equestrian Compass focuses on the development process that horse lovers and professionals go through and the creativity to take on specific challenges with the horse within an ever-changing world. This more dynamic approach does more justice to the diversity in which people give substance to the partnership with their horse. Whether that is as a rider, coach, trainer, entrepreneur or just as an enthusiast.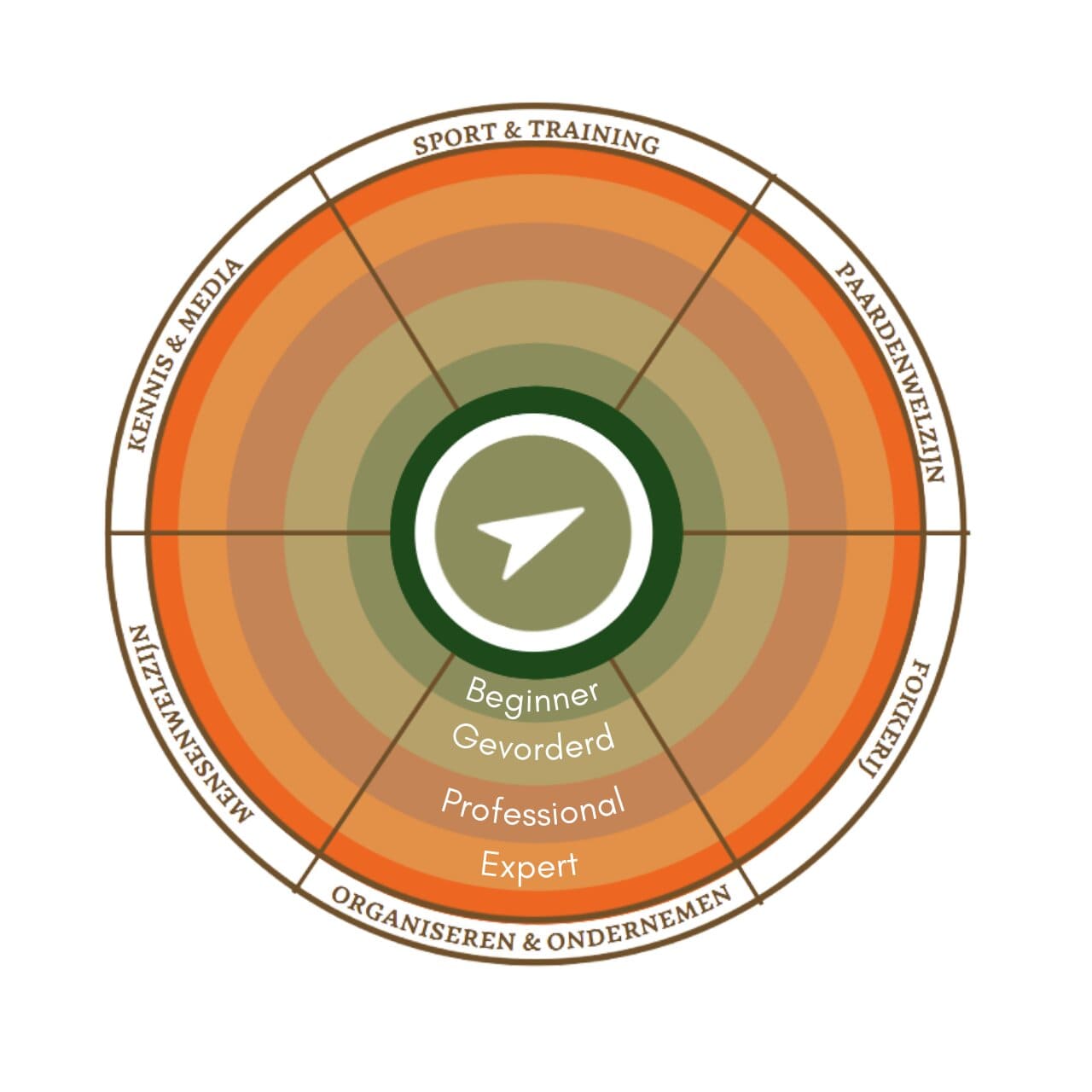 The Equestrian Compass puts the responsibility back on the individual to show how he does the right thing for the horse, at the right time and in the right way. By assessing and evaluating our own competences in the field of horse welfare, sustainability and a positive contribution to the entire sector and by being transparent. The Equestrian Compass can contribute to self-reflection, discussion, positioning, auditing and reviewing can be used at all levels. Using the Equestrian Compass can help to make the horse world transparent and to show how it makes a positive contribution to people, animals and the environment. The model can also provide insight into where there are still opportunities in the market for entrepreneurs.
With the Equestrian Compass, people can map their own development within the equestrian sector. The Equestrian Compass is a screening tool that can be used as a prelude to more transparency and self-regulation in the equestrian sector. In addition, it can give people direction in the development of their horsemanship. It also makes them aware that they are part of a larger whole.
A safe bandwidth for horses and humans
The Equestrian Compass approaches the horse sector as one healthy functioning system with a safe bandwidth within a lower and upper limit within which people and horses can live, work, play sports and recreation together. No horse should fall through the hole in the middle and end up in the space where there is too little of everything to be able to provide him with the right care. It is the first threshold you have to take: determine whether you have sufficient knowledge, skills and resources to not harm the horse. From there, the first steps can be taken, and depending on your personal or professional ambitions, you can go through the different development phases in the domains of your choice. The middle limit makes you aware of the fact that when you start working professionally with horses, there is a risk that business interests and the welfare of horses can clash. This requires extra attention for horse welfare and the propagation thereof. The upper limit marks the boundary between when the professional commitment still contributes to the bigger picture, and when it becomes harmful. When you exceed it, you put the individual, political or commercial interest above the welfare of horses and the interest of the horse world as a whole. You then take more than the horse and the horse world can carry with which you unbalance the system. The damage you do is on a transcendent level.
The horse world in six domains
The idea behind the division of the equestrian sector into six domains is that you can be active in multiple domains And per domain can be in different stages of development. Each phase of development and each domain has its own points of attention, challenges and opportunities. By making this visible in this way, you can gain more insight into your current position and from there also make more conscious choices for your further development. The domains go beyond all visions, currents and disciplines. The idea behind this is that it is precisely because of this that the most important common values and principles can come to the fore within the various domains.
Sports

and training

This domain covers all forms of physical training and sports with horses. The domain covers all currents and disciplines. From groundwork to driving competitions. From driving to voltige.

Horse

welfare

This domain covers everything in the field of horse husbandry and horse welfare . From daily care to specialist care at a university clinic. From pasture management to first aid and alternative therapies.

Breeding

All activities related to the (re)breeding of horses. From the hobbyist who breeds a foal once to the professional stallion owner.

Entrepreneurship and Organizing

All forms of entrepreneurship, governing, organizing with the horse as a starting point.

Human

welfare

All activities in which horses are used for human welfare . For example, horse coaching and therapy. Horse riding for the disabled and care farms.

Knowledge and Media

All activities in which knowledge and information about horses is transferred.
Four levels of development
Beginner

You don't know yet what you don't know. You are open, receptive and curious

Advanced

You get insight into what you can't and don't know yet. You'll get there in the end!

Professional

You know what you can do. Based on your expertise, you deliver products and services to people and horses.

Expert

Based on your expertise, you contribute to a specific domain, discipline or field. For example, through innovations or (inter)national achievements.
The Equestrian Compass in practice
A temporary quick scan of the Equestrian Compass is currently available. This allows you to make an initial estimate of your development level per domain. In mid-2022, the Equestrian Compass will be available as a digital screening tool. By completing a digital questionnaire about 60 competencies (1.) you can map out your own personal 'main print'. This provides insight into where you stand in your development and what you contribute within the horse world. It can provide insight into what you do not yet know and give direction in the search for the right guidance and support. Via your own profile on MyCompass.Horse you can further substantiate your personal 'equestrian headprint' with your diplomas, certificates, experience and with your own personal story about why you love (of) horses. You can make your services and expertise visible and inspire others. Transparency is an important way to earn trust from each other and from society. And when every horse lover and professional is transparent and approachable, horse welfare becomes a joint responsibility.
The Equestrian Compass empowered
The Equestrian Compass wants to contribute to empowering horse lovers and professionals. Empowerment is about the connection between horse people, their horse and their environment. Self-reflection and personal leadership is essential to be a good partner for your horse. From self-knowledge and personal leadership, the space is created to lead and take responsibility for the horse. The basis for horse people to act from empowerment is an environment in which people inspire each other and where there is trust and respect. Let that be the most important conditions when dealing with our horse!
Horses also don't thrive when control takes precedence over trust and respect. Our horses teach us about vulnerability. When we step on a young horse for the first time or, for example, get back on after a nasty fall, we have to learn to trust the horse without the guarantee that things will go well now. For that you have to be vulnerable. We can never control the horse in such a way that we can be ahead of failure. It is these uncomfortable moments when we experience the most growth. When horse lovers and professionals dare to be open and vulnerable, we can learn a lot from each other. To do this, we must learn to trust each other. And don't judge each other for mistakes, fear and failures. But giving recognition, appreciating and seeing what someone can still learn. People become more proactive, aware and successful if they can fill in the partnership with their horse in a way that suits them. Horse welfare, fun and performance can go hand in hand when horse lovers and professionals are empowered.
The Equestrian Compass allows the intention to be

leading

The Equestrian Compass does not advocate letting go of all policy in the field of horse welfare and then see if it works out well. With the horse as guinea pig. The Equestrian Compass is also not intended as a replacement for existing laws and regulations. The Equestrian Compass focuses on the growth of a horse lover or professional, so that he can independently bear the responsibility for a horse. The moment people gain insight into their own competencies and limitations, they also gain more insight into the impact they make on their horse and their contribution within the horse world. Growth also implies the ability to handle more responsibility, within their own constraints. The Equestrian Compass helps horse people discover their own limits and those of their horse. Without imposing anything on them in advance. The frameworks set by society, sports federations and interest groups, for example, are then only supportive, rather than leading and an end in themselves. For example, if you choose to participate in competitions, you have also chosen the rules that go with it. It is then a free choice.
Growth by discovering boundaries
Growth has its limits and they are different for everyone. However, if boundaries are 'imposed' from the outside, for example with a course to keep a horse, this is experienced as patronising and motivation decreases. When you learn by doing, to experience what your limits are, the immediate acceptance follows. So get rid of the fear that people can't take good care of their horse. Let people discover their own limitations and possibilities. With this approach, the Equestrian Compass wants to contribute to empowering horse lovers and professionals. The Equestrian Compass wants to show that horse welfare, fun and performance go hand in hand, by creating a movement in which horse lovers and professionals come into their own and in which integrity and transparency and horse welfare have the highest priority. The Equestrian Compass was developed from the idea that horse welfare is not a static thing. Keeping and handling horses well is a lifelong learning process. In addition, the partnership and the role that the horse has in our society is evolving. Horse welfare is therefore subject to progressive insight. The Equestrian Compass offers the possibility to improve horse welfare from below. Not by patronizing and controlling (potential) horse lovers and professionals, but by empowering them. By involving, connecting and including them in the equestrian community. 
Finally
I (Jasmijn de Bruijn) developed the Equestrian Compass after 18 years of working as a policy advisor within the human care sector. A large part of my work consisted of implementing social transitions and ensuring that (healthcare) organizations comply with quality marks, laws and regulations. In that role, I witnessed how the need for control and certainty led to an even greater need for control. Systems became leading, at the expense of humanity, motivation and creativity. Innovative thinkers within change management have been calling for a long time that we should go back to the intention, making systems supportive instead of leading. But hierarchical structures, and the (unspoken impure) interests that are maintained by them, cannot simply be transformed.
The Equestrian Compass is inspired, among other things, by the doughnut economy, an economic model that simply aims to realize the needs of everyone within the carrying capacity of the Earth. I translated that idea to the equestrian sector: how can horse lovers shape the partnership with their horse within the physical and mental possibilities of horses and thereby make a positive impact within society? Another inspiration was the Positive Health model (Machteld Huber). This model overturned the World Health Organization (WHO) definition of health from 1948 and is now widely used within the healthcare sector. I translated that model into the question: how can we see horse welfare in the light of the changing social norms and values within our society?
My motivation is that I hope that in twenty years' time we can look back and be proud of how our partnership with the horse has evolved. From food to a beautiful symbiosis between two animal species that give each other's lives meaning and meaning and that together take on the challenges of living an ever-changing world.
Disclaimer: The Equestrian Compass is not a validated measuring instrument or a quality mark, but a philosophy, a movement.
Competences Equestrian Compass
In the implementation of the competences of the Equestrian Compass I had help from a nice diverse group of horse lovers and professionals with whom all domains and levels were represented. They have all contributed from their own practice and experience. The process alone was worthwhile, because it showed that it is possible: that together we can rise above the dogmatic contradictions and divisions that now characterize the equestrian sector.
For this I would like to thank the following people for their contribution:
Heleen van der Pol, Sjak Arts, Marian Staal, Natascha van Eijk, Tessa van Daalen, Rosa van Veen, Bineke de Vries, Jantine Steehouder, Marleen van Baal, Tamara Dorresteijn, Mara de Ruijter, Malene Nootenboom, Sanne Roozen, Astrid Hoppenbrouwers, Patricia van Iersel, Caroline de Grood, Carlijn de Boer, Antoinette Diks, Anette van Weezel Errens, Maarten van Stek, Monica Musen, Marieke Klein Lenderink, Sabine de Jong, Wieke de Jong, Roy Baaijens, Mireille den Hoed, Karel de Lange, Joyce Everts, Liesbeth Jorna, Joan van Gorkum, Bo van Gorkum, Romy Huisman, Jolanda Adelaar, Anne Muller, Anita de Keijzer, Rianne Dekker, Jose Letsch
Citation
Other sources of inspiration for the Equestrian Compass:
Kees Klomp (2020) On an economy in which value wins over money: "We are long gone.", www.maatschappijwij.nu

Jan Rotmans (2012), Current chaos and unease are harbingers of a great new world. www.maatschappijwij.nu

Morrison, J. (2014) The Social License: How to Keep Your Organization Legitimate; Palgrave Macmillan: London, UK.

Sinek, S (2012) Start with the why. The golden circle of entrepreneurship. Amsterdam Business Contact

Mihaly Csikszentmihalyi (2008), The Psychology of Optimal Experience. HarperCollins Publishers Inc .

Jan Bommerez (2007), Less need, more flow. Back to the magic of your childhood. MultiLibris Publishers

The Idea of the World, A Multi disciplinary argument fot the mental nature of reality, Bernardo Kastrup, 2019

J. Peters, J. Pauw (2004), Intensive Human Husbandry. How quality dissolves into rationality. Scriptum Books

L. Kamphuis (2020), Philosophy for an unparalleled life. The Busy Bee

Yuval Noah Harari (2019), Sapiens. A little history of humanity. Thomas Rap.

J. Allen, M. Wilcox (2008). Why + how = wow. Vision and practice in organizational changes. Acedemic Service

Y.H. Gramsbergen-Hoogland, M.A.J. Deveer (2016) Personal quality. Wolters Noordhoff

Lubberding, J, Lubberding R. (2010) How to make a change plan. Noordhoff Publishers

R. Bregman (2019). Most people are good. A new history of man. De Correspondent BV.

K. Raworth (2019), Doughnut Economics, in 7 steps to an economy for the 21st century. New Amsterdam.

T. Robberts (2012), Your unprecedented abilities, NLP the way of excellence. Kosmos Publishers.

D. Marlin, H. Randle, L. Pal and J. Williams. (2018). Do equestrians have insight into their equine-related knowledge (or lack of knowledge)? Equitationscience.com.

Learning and working from full empowerment, www.pioniersmagazine.nl